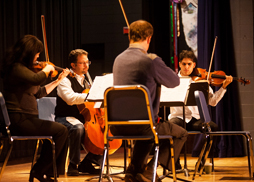 28th Season postponed until 2021

TBD
Open Rehearsal
Chandler Music Hall
Admission: Free, goodwill offering at the door

TBD
Piano & Strings - Robert Fuchs, Schubert, Guiseppe Martucci
Chandler Music Hall
Buy Tickets

TBD
9th collaboration with the Vermont Youth Orchestra
Program TBA but to include Bach Piano Concerto #5 in f minor (Adrienne Kim, Piano) on the main stage at the Chandler Center for the Arts. This program, for this year only, will be in place of the Breakfast with Bach due to scheduling conflicts.
Admission: Free, goodwill offering at the door
Reception to follow with food provided by Shari Dutton & friends.

TBD
A Special Event
Daily Special Barbershop Quartet!
This new addition to the festival offerings was such a hit last year we are adding another interesting and thouroughly enjoyable ensemble. Program will be available soon. Reception to follow.
Chandler Music Hall
Admission at the door: $20.00

TBD
Open Rehearsal
Chandler Music Hall
Admission: Free, goodwill offering at the door

TBD
Friday Night in the Gallery
Friday Night in the Gallery this year will be a concert with Vermont Artists Annamieke & Jeremiah McLane. This concert will be specially tailored for kids of all ages! Reception to follow.
Chandler Music Hall's
Downstairs Gallery
Admission: Free, goodwill offering at the door

TBD
String Quartets by Haydn, Vaughan Williams and Beethoven
Chandler Music Hall
Buy Tickets


---


The Central Vermont Chamber Music Festival announces the release of its first highlight CD: Festival Harvest

"The Central Vermont Chamber Music Festival has come a long way since it was founded in 1993 by Peter Sanders, a New York cellist who grew up spending his summers in the Randolph area. An indication of just how far is its excellent New CD, "Festival Harvest," a compilation of live performances of works by Mendelssohn, Schönberg and Frank Bridge at the Chandler Music Hall in 2000 and 2004.

When I first heard the album, I had recently heard an excellent performance of Mendelssohn's A Major String Quintet at Vermont's justly revered Marlboro Music Festival. The same work opens this CD, and I actually preferred the Randolph performance. That's big praise."

Read the review from the December 2, 2005 issue of Vermont's Times Argus




Purchase tickets for our 28th Anniversary Season Chandler Concerts online:
(Coming Soon!)

TBD
Piano & Strings - Robert Fuchs, Schubert, Guiseppe Martucci

TBD
String Quartets by Haydn, Vaughan Williams and Beethoven

or download our Ticket Order form


Tickets are also available by calling the Chandler Box Office at 802.728.9878.
If you wish to purchase tickets for both Saturdays ($45.00) you can call the box office.