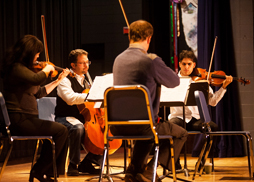 32nd Season
April 6, 2024
August 5th - 12th, 2024
Saturday, April 6th, 2024
at 7:30 pm

J. S. Bach
Goldberg Variations
for String Trio
BWV 988
arranged by Dmitry Sitkovetsky
---

Thursday, August 8th, 2024
at 7:00 pm
Open Rehearsal
Chandler Center for the Arts
Admission: Free

Friday, August 9th, 2024
at 7:00 pm
A Special Event - Boyd Meets Girl Duo
Chandler Center for the Arts
Admission: $20.00

Saturday, August 10th, 2024
at 7:30 pm
Majors & Minors
Music for strings and piano by Brahms, Mozart and Dora Pejačević
Chandler Center for the Arts

Sunday August 11th, 2024
at 4:00 pm
An Encore Performance
Majors & Minors
Music for strings and piano by Brahms, Mozart and Dora Pejačević
Afternoon concert in Woodstock, VT
Woodstock Unitarian Universalist Church
Presented by the Pentangle Council on the Arts as part of their summer series.
Admission at the door: Donation


---


The Central Vermont Chamber Music Festival announces the release of its first highlight CD: Festival Harvest

"The Central Vermont Chamber Music Festival has come a long way since it was founded in 1993 by Peter Sanders, a New York cellist who grew up spending his summers in the Randolph area. An indication of just how far is its excellent New CD, "Festival Harvest," a compilation of live performances of works by Mendelssohn, Schönberg and Frank Bridge at the Chandler Center for the Arts in 2000 and 2004.

When I first heard the album, I had recently heard an excellent performance of Mendelssohn's A Major String Quintet at Vermont's justly revered Marlboro Music Festival. The same work opens this CD, and I actually preferred the Randolph performance. That's big praise."

Read the review from the December 2, 2005 issue of Vermont's Times Argus





Listen to a sample from the CD:
Felix Mendelssohn: String Quintet in A Major, Op. 18

Arnold Schönberg: Verklürte Nacht, Op. 4
Frank Bridge: Phantasie Trio in C Minor (excerpts)


The Central Vermont Chamber Music Festival announces the release of its first highlight CD: Festival Harvest

I am thrilled to finally be able to offer this wonderful collection of recordings for you to enjoy. A sample of the Mendelssohn Quintet from a previous season is available to preview. The cost is only $15.00 plus $3.00 postage and handling. Please print out the order form and send it along with a check or money order made out to the Central Vermont Chamber Music Festival. Upon receipt of the completed form, a copy of our first CD will be put in the mail to you within 2 - 3 weeks. Enjoy this fine CD and consider purchasing not only one for your own enjoyment but for a friend as well!

The CD is also available for purchase at CDBaby.com

The CVCMF had its first highly acclaimed season in 1993 and has been receiving rave reviews since. This CD is a project that I have been looking forward to producing and I am sure you will enjoy the beautiful live performances. There are many thanks to be made for securing the funding for this project: my loyal contributors (of whom there are too many to list), the Argosy Foundation, the Lamson Howell Foundation, Kurt & Ingeborg Andreae and John & Linda Levi. The festival has the pleasure of making its home in the Chandler Center for the Arts in Randolph, Vermont. This beautiful and acoustically superior hall has been a great joy to make music in each August. Other venues include the beautiful Three Stallion Inn in Randolph, VT, and concerts in Woodstock, VT, Montpelier, VT and Stowe, VT. Special thanks to Janet Watton and all involved with Chandler Center for the Arts, Jinny & Sam Sammis and Martina Rutkovsky for their support of the Arts in Vermont, Michael Billingsley / Straight Arrow Performance Recording, my wife and children and last (but by no means least) my parents, Ernest H. & Marion Sanders for their love and support.

Peter Sanders
Artistic Director



---

Reviews of Festival Harvest

Local classical CDs offer a taste of Romantic as well as Yiddish
by Jim Lowe from the December 2, 2005 issue of Vermont's Times Argus

Christmas and Hanukkah time is usually - save for Handel's "Messiah" - the time for lightweight pop music releases, which are often pretty lame. This year, though, lovers of classical music can celebrate with two fine new releases.

"Berakhot: A Midrash Cantata" is Montpelier composer Bruce Chalmer's tribute to his Jewish heritage, beautifully performed by Plainfield's Fyre and Lightning Consort. And "Festival Harvest" is a selection of spectacular performances from Randolph's Central Vermont Chamber Music Festival. (Actually, both were released earlier this year, but this is the first opportunity we had to review them.)

"Berakhot," which was premiered in 2002, is made up of 26 short movements representing midrashes, or blessings, each in a different style. And the styles are diverse - from traditional Jewish and ancient modal melodies to a Negro spiritual (in Yiddish) to boogie-woogie and modern classical dissonance - and back.

The Fyre and Lightning Consort made the recording at Multicultural Media's Dog River Studio in Middlesex. While the live performance reviewed here in 2003 proved somewhat rough, this studio recording is a treasure of rewarding performances. The vocal work, save for the solos, by tenor Roger Grow, is not professional, but the grittier sound fits the music - and the instrumental work is a real pleasure.

This is also an unusual potpourri in part because the Fyre and Lightning Consort, of which Chalmer is a founding member, is geared largely to Renaissance music, and this provides the unique flavor. The selections open with a combination of klezmer and "Threepenny Opera" composer Kurt Weill sounds. There is also a lot of Renaissance flavor, and the klezmer flavor continues throughout.

"Sheva Berakhot (Seven Blessings)," seven movements within the cantata, also represent a real variety of styles. In particular, "Gan Eden (Garden of Eden)" is a hymn-like melody beautifully sung by Grow that is very tonal, simple and beautiful, set against a much spicier harmonic accompaniment. It's a nice example of how modern writing can be effective by combining the two - at once original and reassuring.

The styles are a real hodgepodge throughout, yet they feel integrated. Despite a feeling of sameness at times, "Berakhot: A Midrash Cantata" is intriguing, entertaining and well-performed. It's very earthy - and it's fun.

The Central Vermont Chamber Music Festival has come a long way since it was founded in 1993 by Peter Sanders, a New York cellist who grew up spending his summers in the Randolph area. An indication of just how far is its excellent new CD, "Festival Harvest," a compilation of live performances of works by Mendelssohn, Schönberg and Frank Bridge at the Chandler Center for the Arts in 2000 and 2004.

When I first heard the album, I had recently heard an excellent performance of Mendelssohn's A Major String Quintet at Vermont's justly revered Marlboro Music Festival. The same work opens this CD, and I actually preferred the Randolph performance. That's big praise.

The superlative performance on this album is led by Arturo Delmoni. The New York violinist plays with lyricism and an old-style elegance, a restrained passion and virtuosity, that gives it infinitely more power than today's easy passion would. His tone is beautiful - and violinist Erica Kieswetter, violists Calvin Wiersma and David Cerutti, and cellist Sanders match him. Sanders sounds particularly good in this.

Of course, the performance lacks the cohesiveness of purpose and playing of a longstanding ensemble, but it's absolutely fine playing, a very exciting performance of a real masterpiece.

Another masterpiece is Arnold Schönberg's "Verklärte Nacht (Transfigured Night)," heard here in its original version for string sextet. Recorded in 2000, violinists Kieswetter and Basia Danilow, violists Cerutti and Katherine Anderson, and cellists Sanders and Roger Shell have a rich, string sound, very sensual and very nuanced.

In this haunting work, where late Romanticism meets Modernism, the performance is a knowing one, an understanding one and a feeling one. The intensity and excitement are palpable; it's a convincing performance of a very complex masterpiece.

Much more than Schönberg, English composer Frank Bridge (1879-1941) combined late Romantic and early Modern. His Trio No. 1 in c minor ("Phantasie Trio") is neo-Brahms in the grand manner. It's a big Romantic piece with more modern harmonic language, albeit traditional rhythmically.

Performed in 2004, the playing by pianist Michael Boriskin, violinist Jeffrey Multer and cellist Sanders is very robust with big Romantic piano and passionate but warm violin and cello, espressivo and virtuosic. There's no subtlety and no place for it - it's big and brash and beautiful.

The whole album is a delight from beginning to end. It's a nice tribute to our community that we attract such musicians who choose to develop here. These same musicians didn't sound this way when they first came here 12 years ago; the level of playing is incredibly high throughout.