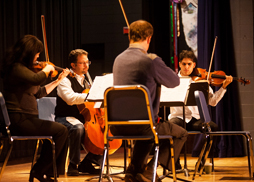 31st Season
August 7th - 19th, 2023

Wednesday, August 9th, 2023
at 7:00 pm
A Special Event
Bach Cello Suite No. 5
in c minor, BWV 1011
Peter Sanders
Chandler Main Stage with stage seating Chandler Center for the Arts
Admission at the door: $20.00

Thursday, August 10th, 2023
at 7:00 pm
Open Rehearsal
Chandler Center for the Arts
Admission: Free

Saturday, August 12th, 2023
at 7:30 pm
String Trios by Sergei Taneiev
and Pedro Saenz
and a Brahms Sextet
Chandler Center for the Arts

Sunday August 13th, 2023
at 4:00 pm
An Encore Performance
String Trios by Sergei Taneiev
and Pedro Saenz
and a Brahms Sextet
Afternoon concert in Woodstock, VT
Woodstock Unitarian Universalist Church
Presented by the Pentangle Council on the Arts as part of their summer series.
Admission at the door: Donation

Thursday, August 17th, 2023
at 7:00 pm
Open Rehearsal
Chandler Center for the Arts
Admission: Free

Friday, August 18th, 2023
at 7:00 pm
Friday Night in the Gallery
Pete Sutherland memorial concert
For Pete's Sake
Performed by
Paul Woodiel and Jeremiah McLane
Chandler Center for the Arts
Admission: Free, goodwill offering at the door

Saturday, August 19th, 2023
at 7:30 pm
String Quartets by William Grant Still and Glazunov, Barber Adagio, and the Mozart Horn Quintet
Chandler Center for the Arts


---


The Central Vermont Chamber Music Festival announces the release of its first highlight CD: Festival Harvest

"The Central Vermont Chamber Music Festival has come a long way since it was founded in 1993 by Peter Sanders, a New York cellist who grew up spending his summers in the Randolph area. An indication of just how far is its excellent New CD, "Festival Harvest," a compilation of live performances of works by Mendelssohn, Schönberg and Frank Bridge at the Chandler Center for the Arts in 2000 and 2004.

When I first heard the album, I had recently heard an excellent performance of Mendelssohn's A Major String Quintet at Vermont's justly revered Marlboro Music Festival. The same work opens this CD, and I actually preferred the Randolph performance. That's big praise."

Read the review from the December 2, 2005 issue of Vermont's Times Argus




Click here to download a donation form and help support the CVCMF.

or use the PayPal donate link:



Premiums for being a supporter include:

If you donate between $75-$249.00 the CVCMF will send a Festival Harvest CD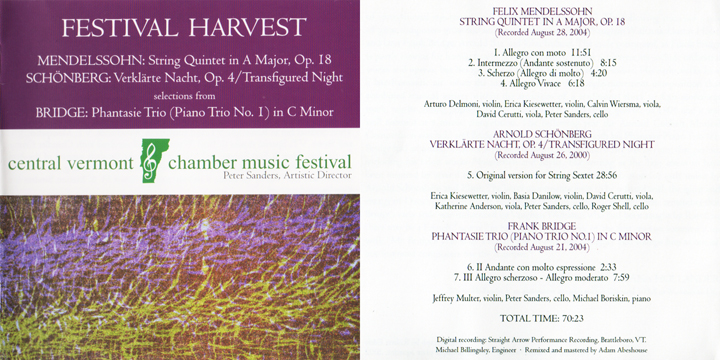 Your support is so important.
Please consider a planned gift such as a bequest, appreciated property or securities, life insurance or charitable trust.
Your involvement now will ensure a secure future for the CVCMF.
Your tax advisor can help with the specific actions necessary.

The festival is a non-profit organization with 501(c)(3) tax-exempt status from the IRS.