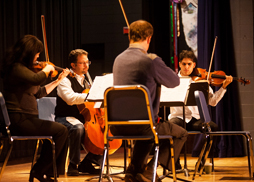 32nd Season
April 6, 2024
August 5th - 12th, 2024
Saturday, April 6th, 2024
at 7:30 pm

J. S. Bach
Goldberg Variations
for String Trio
BWV 988
arranged by Dmitry Sitkovetsky
---

Thursday, August 8th, 2024
at 7:00 pm
Open Rehearsal
Chandler Center for the Arts
Admission: Free

Friday, August 9th, 2024
at 7:00 pm
A Special Event - Boyd Meets Girl Duo
Chandler Center for the Arts
Admission: $20.00

Saturday, August 10th, 2024
at 7:30 pm
Majors & Minors
Music for strings and piano by Brahms, Mozart and Dora Pejačević
Chandler Center for the Arts

Sunday August 11th, 2024
at 4:00 pm
An Encore Performance
Majors & Minors
Music for strings and piano by Brahms, Mozart and Dora Pejačević
Afternoon concert in Woodstock, VT
Woodstock Unitarian Universalist Church
Presented by the Pentangle Council on the Arts as part of their summer series.
Admission at the door: Donation


---


The Central Vermont Chamber Music Festival announces the release of its first highlight CD: Festival Harvest

"The Central Vermont Chamber Music Festival has come a long way since it was founded in 1993 by Peter Sanders, a New York cellist who grew up spending his summers in the Randolph area. An indication of just how far is its excellent New CD, "Festival Harvest," a compilation of live performances of works by Mendelssohn, Schönberg and Frank Bridge at the Chandler Center for the Arts in 2000 and 2004.

When I first heard the album, I had recently heard an excellent performance of Mendelssohn's A Major String Quintet at Vermont's justly revered Marlboro Music Festival. The same work opens this CD, and I actually preferred the Randolph performance. That's big praise."

Read the review from the December 2, 2005 issue of Vermont's Times Argus




On this page you'll find links to performances excerpts, radio interviews and other media links. For a full list of our videos, check out our YouTube Channels: here and here.


---



CVCMF 2022 - Witold Lutoslawski Bucolics for Viola and Cello (1962). Movements 1, 2 & 3



---



CVCMF 2021 - Ralph Vaughan Williams / Three Preludes on Welsh Hymn Tunes



---



CVCMF 2021 - Giuseppe Martucci Piano Quintet in C , Op. 45



---



CVCMF 2018 - Robert Washut - Soneando for Violin, Viola & Cello (2011)



---



CVCMF 2018 - Vaughan Williams Piano Quintet in c - 1st movement



---



Ravel Habanera, Cello & Piano - performed by Peter Sanders and Adrienne Kim



---



Chamber Jazz - Goodbye & Bernie's Tune



---



Pulp Fiction performed Jeffrey Zeigler, Peter Sanders, Hannah Holman, Chris Finckel (Arrangement: Bernard Amrani) on August 15, 2015 at Chandler Center for the Arts
as part of the Central Vermont Chamber Music Festival.



---

On March 26th, 2012 we performed two student concerts, one at the Randolph Union High School and one at the Wellspring Waldorf School. Thank you to everyone at the Wellspring Steiner School for welcoming us into your community - especially Amy Rosalbo! - with Michael Roth, Dr. Jon-Richard Knoff, Louise Owen, Peter Sanders and Cyrus Beroukhim. We were also thrilled to have had WCAX TV join us at the Wellspring Waldorf School concert!


---

View a concert highlight of the Benjamin Britten Phantasy Quartet, Op. 2 from our 2012 CVCMF 20th anniversary season



Andante alla marcia - Allegro - Andante - Piu agitato - Tempo primo
Recorded on August 18th, 2012 in Chandler Hall, Randolph, Vermont
Central Vermont Chamber Music Festival 20th anniversary season.
Oboe: Randall Wolfgang, Violin: Arturo Delmoni, Viola: Katherine Anderson, Cello: Peter Sanders


---

View a concert highlight of the Glazunov Quintet from 2011 as featured on Performance Today on 1/23/2012




---


Clips from other past festival performances








Repertoire and Artists from 1993 to present