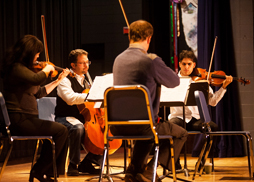 32nd Season
April 6, 2024
August 5th - 12th, 2024
Saturday, April 6th, 2024
at 7:30 pm

J. S. Bach
Goldberg Variations
for String Trio
BWV 988
arranged by Dmitry Sitkovetsky
---

Thursday, August 8th, 2024
at 7:00 pm
Open Rehearsal
Chandler Center for the Arts
Admission: Free

Friday, August 9th, 2024
at 7:00 pm
A Special Event - Boyd Meets Girl Duo
Chandler Center for the Arts
Admission: $20.00

Saturday, August 10th, 2024
at 7:30 pm
Majors & Minors
Music for strings and piano by Brahms, Mozart and Dora Pejačević
Chandler Center for the Arts

Sunday August 11th, 2024
at 4:00 pm
An Encore Performance
Majors & Minors
Music for strings and piano by Brahms, Mozart and Dora Pejačević
Afternoon concert in Woodstock, VT
Woodstock Unitarian Universalist Church
Presented by the Pentangle Council on the Arts as part of their summer series.
Admission at the door: Donation


---


The Central Vermont Chamber Music Festival announces the release of its first highlight CD: Festival Harvest

"The Central Vermont Chamber Music Festival has come a long way since it was founded in 1993 by Peter Sanders, a New York cellist who grew up spending his summers in the Randolph area. An indication of just how far is its excellent New CD, "Festival Harvest," a compilation of live performances of works by Mendelssohn, Schönberg and Frank Bridge at the Chandler Center for the Arts in 2000 and 2004.

When I first heard the album, I had recently heard an excellent performance of Mendelssohn's A Major String Quintet at Vermont's justly revered Marlboro Music Festival. The same work opens this CD, and I actually preferred the Randolph performance. That's big praise."

Read the review from the December 2, 2005 issue of Vermont's Times Argus





So you're thinking about visiting our corner of the world. We have plenty of activities to offer the adventuresome traveler. Picturesque rivers and country roads...yours to explore! Take in a show at the Chandler, enjoy the Green Mountain National Forest, state parks, mountain vistas and places close by like Goose Green, Granville, Brookfield, Barnard, Strafford, Tunbridge, Chelsea and more.

See the great outdoors on trips that will take you down our rivers and over our trails in spring, summer, and fall, or across our snowy fields in winter. Check out the cultural heritage of Vermont and sample many Vermont products produced right here. Enjoy sugar on snow during spring, the thrill of the harvest, and the changing foliage in fall. Find antique treasures in some out-of-the-way places you may never have found on your own. Experience the essence of our mountainside golf courses.




Improve your skills in photography and marvel afterwards at some of the best shots you've ever taken. Feast on some Vermont recipes you learn to skillfully prepare yourself. Learn the art of illustrating Vermont botanicals and create a small masterpiece as a souvenir of your trip. Or simply luxuriate in the countryside from the comfort of your inn. Whatever the season, we're sure you'll find something here to please you.

Unless otherwise listed, our concerts take place at the Chandler Center for the Arts in Randolph, Vermont. Click here for a map to Chandler Center for the Arts.

For more information on local restaurants, inns, B&Bs, motels, stores and tourist attractions please visit the Vermont Vacation website at www.vermontvacation.com.

And for more information on Randolph, Vermont and its lodging options visit their Chamber of Commerce site.